< Back
Tuesday, September 12, 2017

Dear Members,

Crews have started clearing the roads and as accessibility to previously unavailable areas of the Club start to open up both the Club and ORCA continue to assess the damage. Tim James, our Director of Public Safety for the Community, has started surveying specific neighborhoods and noting the condition of the roads. The areas of review continue to expand and each update will contain the latest information. As of Tuesday afternoon, Tim notes the following:

| | |
| --- | --- |
| Location | Damage |
| Perky Rd and Bay Ridge | Tree blocking road |
| Pumpkin Cay | Cul-de-sac blocked |
| Sunset Cay Bridge | Tree down |
| Fairway Lakes | Tree down blocking road |
| Ocean Reef and Golf Terr | Lots of debris in road |
| Hardwood Hammock | Road blocked |
| Golf Village Entrance | Road blocked |
| Torchwood | Road blocked |
| Caloosa | Trees down/ minor blockage |
| Dilly Tree | Road blocked |
| Dispatch Creek | Trees down/ minor blockage |
| S. Harbor and N. Bridge | Street signs down |
| North Bridge | Circle blocked |
| Harbour Green | Signs down |
| Anchor Drive and Angelfish | Road blocked |
| 25 thru 33 Angelfish Cay | Road blocked |
| Halfway Rd | Partial blockage up to Cal-de sac |
| Barracuda Lane | Completely blocked |

This information will help road crews move through the community and start to clear the roads. However; please be aware that the removal of the debris has not yet begun. Right now the priority is to open the roads so workers and emergency crews, if needed, can access all areas of the Club. The debris is being cut and then pushed to the side of the road. It will be a bit longer before we are able to begin the removal process. Here are a few photos to give you an idea of the magnitude of debris and tree work required in these areas.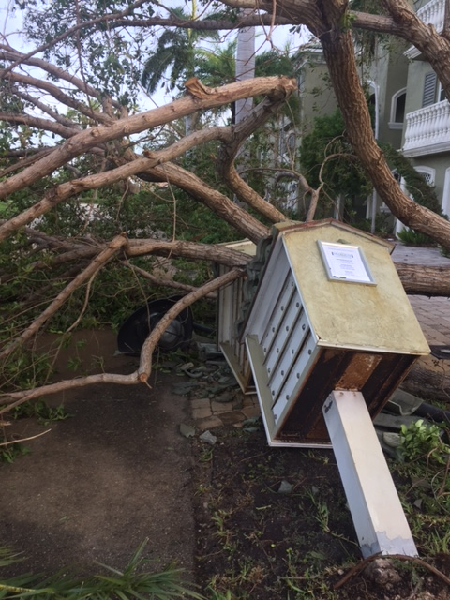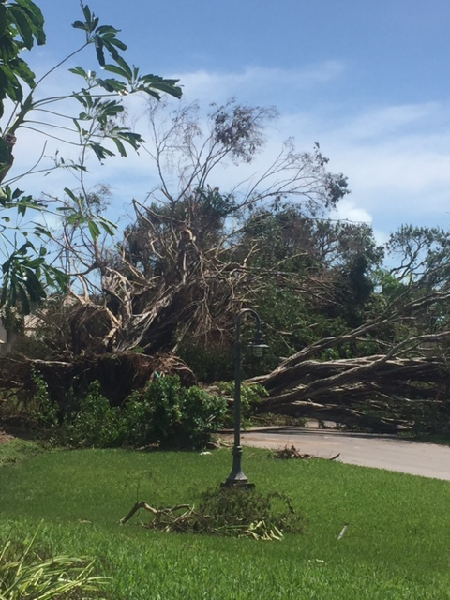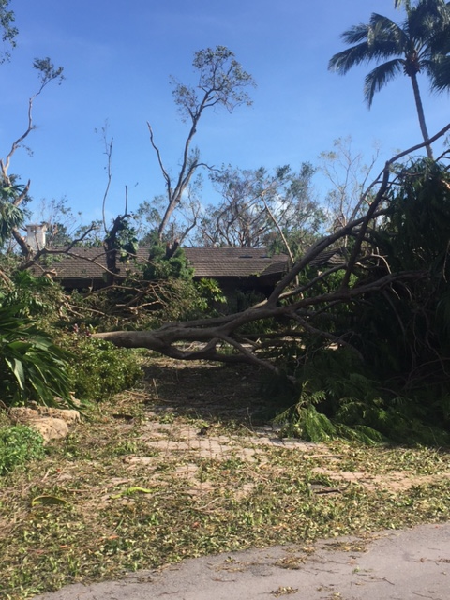 Pumpkin Cay Area Fairway Lakes Spadefish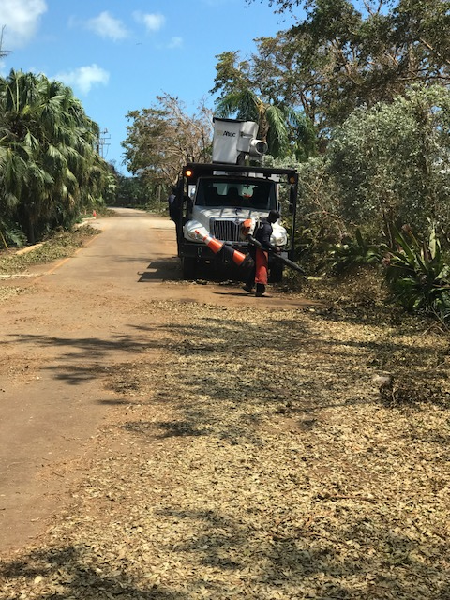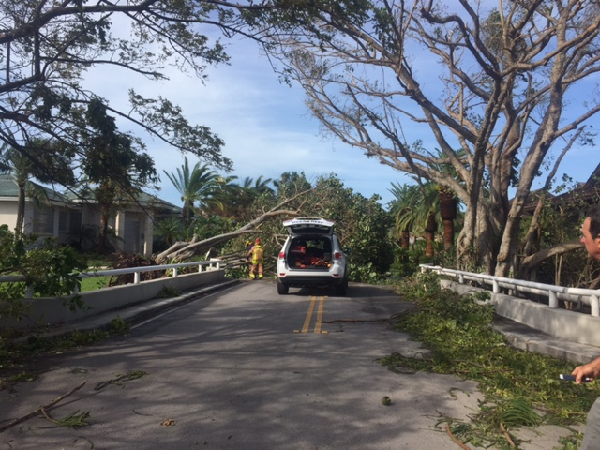 Reef Tropical crews clearing Snapper Point Bridge

It is also not just a matter of cutting every tree in the way. An ORCA representative has to work with the tree companies because a number of valuable trees that have fallen can be rescued, righted and supported.

In all this there is some hopeful news. Wind damage to Club buildings and the vast majority of homes is minimal. There are a few areas where trees landed on a building and a very small number of homes did suffer damage from this as well. However; we have not fully assessed the level of damage from rising water. The water has all receded in areas of the Club's core but we do know that we have flood damage to the Ocean Room and the Islander. Further review and assessment will be required to determine the extent, and a careful examination will be undertaken for all facilities. Our Inn Rooms and Yachtsman's rooms did not suffer from wind damage or flooding.

The Marina is open, operational and looking very well, however it does not have power or fuel. The Airport will reopen tomorrow, Wednesday, however it also does not have fuel and parking will be very limited.

Meanwhile other areas faired very well: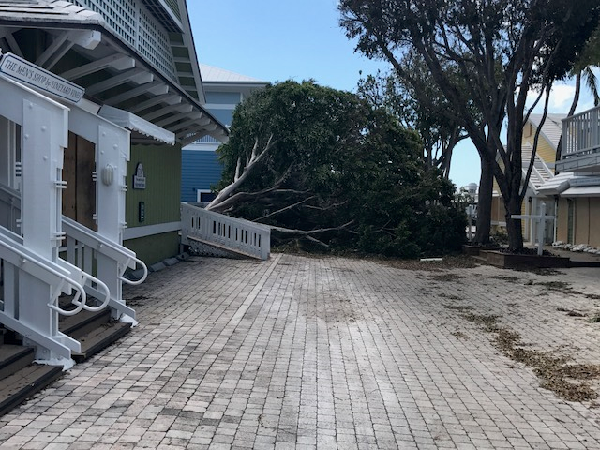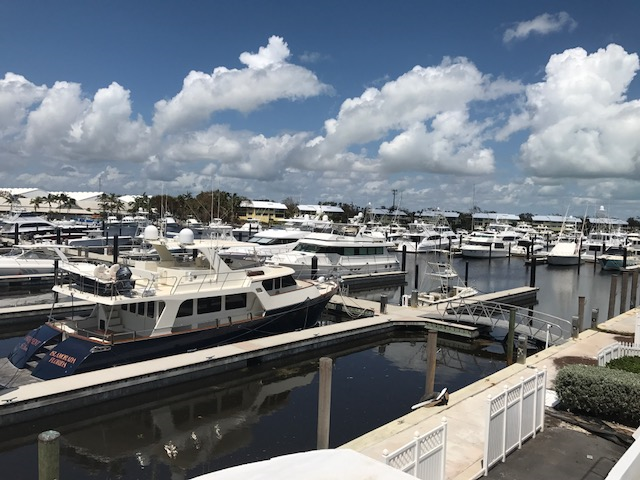 Fishing Village, tree just missing the building Marina and boats weathered storm well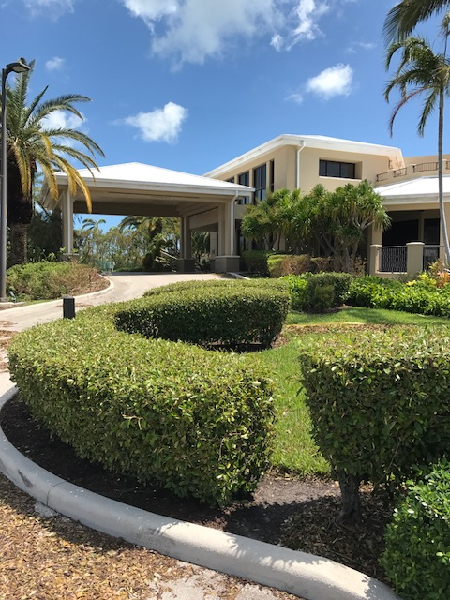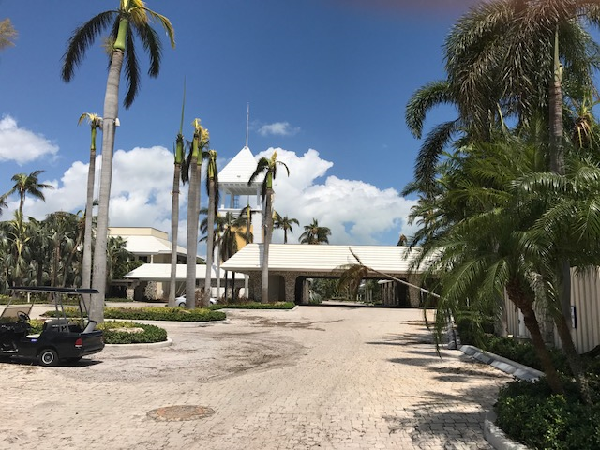 Town Hall It will be a while before the landscape fully recovers

Our biggest issues remain the restoration of power, which could be days for some, weeks for others, water supply (all of the Keys are to boil water), and the limitations on food service due to the lack of power, water and refrigerated storage.

So you can see the Club and ORCA have a lot of work to do, and we are well underway. Our hats are off to the staff for the Club and ORCA that stayed behind so the early assessments could begin immediately following the storm, they remain on property with no water, no air conditioning and no power. Yet their spirits are strong as they are joined by the first of our Management recovery team and the workers who will being to prepare the Club for this coming season.

Oh, and also arriving on property are the mosquitoes. The standing water and downed trees have turned our magical community into theirs.

With regards,

Michael Leemhuis
President Ocean Reef Club

David Ritz
President ORCA